The FIRST for Women magazine, issue Dec. 2013, features Dr. Oz's sluggish thyroid diet plan to boost the thyroid function.
Click here → for the 3-Step Hypothyroidism Treatment Process
for healing your sluggish thyroid with diet
You have tried to diet and exercise but you are not reaping any healthier results. You felt like a failure after putting all these efforts to lose weight. You think it's your fault.
Just before I was diagnosed with hypothyroidism I was really gaining a lot of weight. My eldest daughter was wondering "why is my mom getting so fat when she doesn't eat a lot and we don't have fatty foods at home." If you have an underactive thyroid, I believe you can relate to this situation.
Magazine Feature: The Dr. Oz Show – Sluggish Thyroid
According to the magazine — Dr. Oz's advice will help every woman out there who are struggling with weight gain from hypothyroidism, fatigue and blue moods.
Dr.Oz' guidelines includes natural supplements to heal women's underactive thyroid problem.
Dr. Oz has announced to his audience on The Dr. Oz Show:
"There are so many women who beat themselves up because they think they're gaining weight and not feeling who they really are just because they are making mistakes….

I'm here to say that's not the case… your thyroid is really the reason."
According to official statistics, thyroid problems affect more than 20 million women. But Dr. Oz has stated:
"…It's probably twice that many who really have a problem."
Toxic Environment – Hinders Thyroid Function
The major reason why we are having this low thyroid epidemic is because of our exposure to toxins that we encounter every day.
The thyroid gland produces hormones that are essential to converting fat into usable energy. But the toxins are hindering the thyroid's gland ability to produce these hormones.
Two Major Toxins
Dr. Oz has called out the two major toxins that make our thyroid sluggish:
1. Perchlorate – a chemical used in rocket fuel, explosives and some fertilizers and bleaches. This chemical has seeped into the ground and is now found in:
drinking water
lettuce
milk and other
foods
2. PBDEs:
A. Flame-retardants found in household items that contain foam (particularly those manufactured prior to 2005), such as:
pillows
mattresses and
upholstered furniture
B. PBDEs can also be found in appliances (especially those made before 2011) like some:
blow-dryers
televisions and
computer monitors
These toxins are tough to avoid, once they are in our environment.
Low Thyroid Function Tests at Home
Blood tests that measure hormones can help diagnose low thyroid. Unfortunately so many women are misdiagnosed from these blood tests.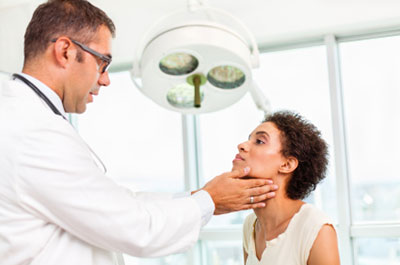 Click Here → Stop Hypothyroidism at the source using natural ways: diet and nutrition
According to Dr. Oz:
"…Thyroid-hormone levels are like shoe sizes — what's normal for one person may be too low for another.
To determine if you are one of the millions of women who have a sluggish thyroid, take the low thyroid function self-diagnostic tests below that you can do at home.
Dr. Oz has suggested to take the following self-tests to gauge your thyroid function:
1. Low Thyroid Symptoms Test – Look for These Signs:
Dr. Oz mentions the following symptoms as stronger signs of slow thyroid than one-size-fits-all blood tests.
sensitivity to cold
persistent fatigue
15-20 pounds over the past 2 years
According to Dr. Oz:
"Symptoms can sometimes trump blood test. If you have symptoms of thyroid impairment, then you may have some degree of thyroid disease."
2. Temperature Test
Unfortunately hypothyroidism symptoms can mimic those of other conditions.
Dr. Oz has suggested to investigate further by:
taking your temperature first thing before getting out of the bed for 7 days in a row
add those numbers
then divide by 7
If the result is 98 °F, suspect low thyroid.
NOTE:
Digital thermometers vary considerably in quality and accuracy. When using a digital thermometer, be sure to hold it under your tongue for a minimum of two to three minutes before taking the reading for best accuracy.
Mercury thermometers tend to be far more reliable and accurate. Shake the thermometer first before using to bring the mercury back down so that you can get an accurate reading.
3. Eyebrows Test
Thinning hair on the outer eyebrows is a classic red flag of hypothyroidism.
Dr. Oz advises to do this one last test:
Line up a pencil vertically with the outer corner of one eye. If few or no hairs are visible beyond the pencil, you may have underactive thyroid.
Help is at Hand – Dr. Oz's Sluggish Thyroid Diet Plan
For all of us who are suffering from underactive thyroid and who are looking for natural hypothyroidism treatment — Dr. Oz's help is at hand. Thanks Dr. Oz.
Dr. Oz told his audience that food is a powerful stimulator of thyroid function. He has identified several potent thyroid boosters that have also been shown in studies to offer detoxifying powers.
Diet for Your Sluggish Thyroid: Supplements & Foods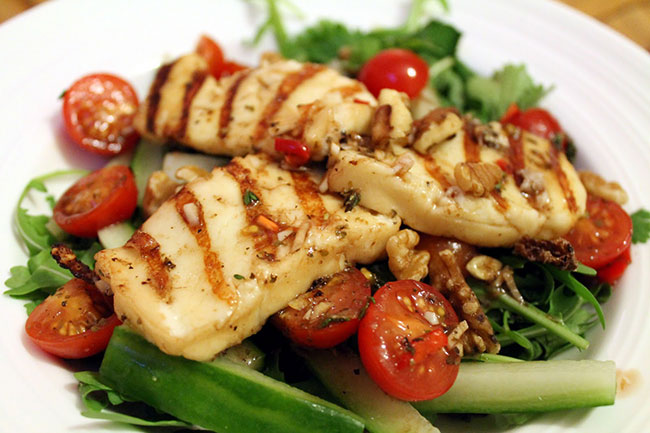 Click Here → Recommended Step-by-Step Dietary Guidelines to healing your thyroid naturally
Here are the 5 guidelines for the low thyroid diet plan which features Dr. Oz's top wellness strategies to nourish and heal your sluggish thyroid gland.
This diet plan is easy. It helps to detox your body from environmental chemicals that drain your thyroid function.
1. Super Nutrient: Vitamin D Supplement
Experts say that Vitamin D is so crucial for your thyroid performance. They consider Vitamin D to be a thyroid "co-hormone."
Your body must have Vitamin D in sufficient amounts so that the thyroid hormone can enter into the cells.
Dr. Oz told the viewers of a Good Morning America segment:
"If you think about one thing you should do in your life to avoid being one of the 27 million women in America who have thyroid problems, take vitamin D."
You can get a boost of vitamin D from foods like:
2. Iodine Boosters
Dr. Oz has called iodine "the key ingredient you need for your thyroid."
Since the 1920s iodine has been added to salt because it's the primary component of thyroid hormone and it's important to gland function.
Dr. Oz has reported:
"80% of the salt we are taking in when we add salt to our foods no longer has iodine added to it."
Toxins compete with iodine in the body, further depleting the iodine stores. Correcting our iodine levels can speed the excretion of toxins and restore the gland function.
Dr. Oz warns that too much iodine or too little iodine in our body is both harmful to the thyroid.
His advice is to enjoy 3 servings a week of food sources such as seafood, seaweed, milk and eggs. For seasoning your foods with salt, choose one that specifies it has added iodine.
3. Selenium – Thyroid Power Nutrient
Selenium is a thyroid power nutrient, according to Dr. Oz. It works with iodine to boost the thyroid gland's function.
The importance of selenium:
When selenium levels are lacking, thyroid hormone can't be efficiently converted from T4 to T3 — an "active" fat-burning form.
Selenium protects against mercury – another toxin that disrupts thyroid function
Top Selenium Food Sources:
Brazil nuts
sunflower seeds
saltwater fish
meat
poultry
mushrooms
whole grains
4. Steam the Cruciferous Veggies
Steam the cruciferous vegetables:
Brussels sprouts
cauliflower
cabbage
broccoli
The vegetables above are Dr. Oz-approved detox foods. These foods contain compounds called indoles. Indoles boost the function of the liver to filter the toxins.
Cruciferous Facts:
These veggies also contain goitrogens.
Goitrogens are natural compounds that block thyroid peroxidase.
Thyroid peroxidase is an enzyme that is essential for thyroid-hormone formation.
To get the benefits of the cruciferous vegetables, you need to steam them for 3 to 5 minutes. Dr. Oz has explained — heat from steam causes goitrogens to lose their ability to block thyroid peroxidase.
5. Cooking with Slimming Oils
Coconut oil benefits:
boosts thyroid function
help increase metabolism and energy
Other thyroid gland-friendly oils:
These oils supply vitamin E which assists in making active thyroid hormone. You may use these oils to substitute for other vegetable oils that you are using. 1
Click here → Easy dietary plan and lifestyle guidelines in treating hypothyroidism
---
About Me:

1Source: First for Women, 12/16/13, pp. 30-33